Quote Now
"Bulk Cheap Custom 32gb Mini Pendrive Memory Stick with logo" has been added to your cart.
Metal USB Card 8g, 16g, 32g, 64g Usb3.0 Flash Disk
The metal credit card is in material of aluminium anodized dark blue color, it reflex high quality from good surface. With big logo sizes of 84x54mm, the metal usb credit card can fully show your promotional message and logo by silkscreen color printing or laser engraved.
| | |
| --- | --- |
| Weight | 0.020 g |
| Dimensions | 0.84 × 0.54 × 0.02 mm |
| Capacity | 128GB, 16GB, 1GB, 2GB, 32GB, 4GB, 64GB, 8GB |
| Color | Black, Blue, Brown, Golden, Green, Gun color, Orange, Purple, Red, Silver, White, Yellow |
| Interface Style | USB2.0, USB3.0 |
| Logo | Crystal laser, Custom, Embossing, Epoxy, Laser, Printing |
Details about Metal USB Card 8g, 16g, 32g, 64g Usb3.0 Flash Disk
Buy high quality metal usb credit card thumb drive from usbstickspromo at much more discount in March,2016 !
The metal credit card is in material of aluminium anodized dark blue color, it reflex high quality from good surface. With big logo sizes of 84x54mm, the metal usb credit card can fully show your promotional message and logo by silkscreen color printing or laser engraved.
Flip out the usb port,can read your company profile, company culture. Is it an amazing tradeshows gives-away ?
Carry into your wallet or hang-on your bags, the metal credit card usb is an necessary electronic gadget.
Material:Metal
Write Speed:More than 5MB/s
Read Speed:More than 15MB/s
Chipset:SanDisk/Toshiba/Samsung/Micron
Control IC:SMI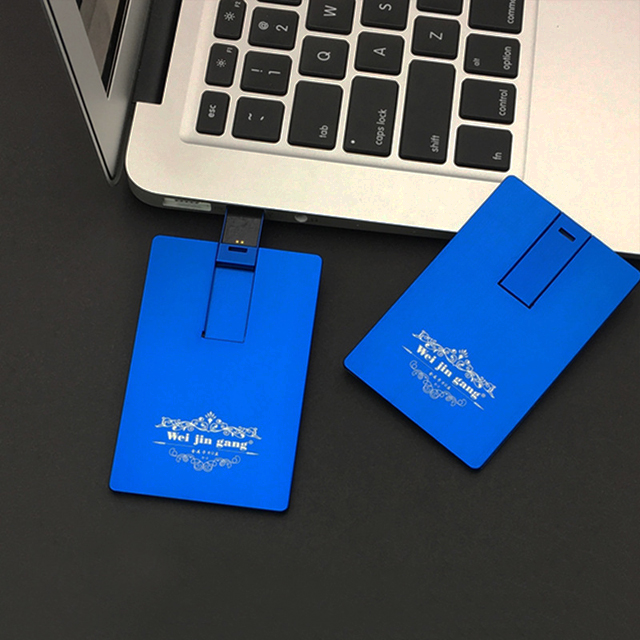 Quality:Class A Good die High Quality
Warranty:3 Years
Share Metal USB Card 8g, 16g, 32g, 64g Usb3.0 Flash Disk With Your Clients